{"id":4375716200561,"title":"CytoQuel","handle":"cytoquel","description":"\u003cp\u003e\u003cstrong\u003e\u003cem\u003ePro-Inflammatory Cytokine Support*\u003c\/em\u003e\u003c\/strong\u003e\u003c\/p\u003e\n\n\u003cul\u003e\n\t\u003cli\u003e\u003cstrong\u003eClinically Researched\u003c\/strong\u003e\u003c\/li\u003e\n\t\u003cli\u003e\u003cstrong\u003eComprehensive Formula\u003c\/strong\u003e\u003c\/li\u003e\n\t\u003cli\u003e\u003cstrong\u003eGMO-Free, Vegan, Soy Free\u003c\/strong\u003e\u003c\/li\u003e\n\u003c\/ul\u003e\n\n\u003cp\u003eCurrent research has focused on the impact of pro-inflammatory cytokines on inflammation levels. During an infection, the body naturally produces pro-inflammatory cytokines as part of its defense mechanism. The healthy body balances pro-inflammatory cytokines with anti-inflammatory cytokines. However, if these pro-inflammatory cytokines (i.e. IL-1, IL-6, IL-8, IL-17, IL-23), Tumor Necrosis Factor-alpha (TNF-a), Nuclear Factor kappa Beta (NF-kß) continue in the "on position" and inflammation levels remain high, adverse health may be the result.\u003c\/p\u003e\n\n\u003cp\u003e \u003c\/p\u003e\n\n\u003cp\u003eCytoQuel (GMO Free)™ are trademarks of Researched Nutritionals, LLC and are used with permission.\u003c\/p\u003e\n\n\u003cp\u003e* These statements have not been evaluated by the Food and Drug Administration. These products are not intended to diagnose, treat, cure, or prevent any disease.\u003c\/p\u003e\n","published_at":"2020-01-13T11:39:05-08:00","created_at":"2020-01-13T11:39:05-08:00","vendor":"Researched Nutritionals","type":"Supplements","tags":["age_Senior","brand_id_117","brand_name_researched-nutritionals","clinic_membership_price_0.00","clinic_regular_price_0.00","clinic_subscription_price_0.00","cost_32.49","country_united-states-of-america","custom_mip_64.98","custom_msrp_64.98","dietarypreferences_Corn-Free","dietarypreferences_Crustacean-shellfish-free","dietarypreferences_Dairy-Free","dietarypreferences_Egg-free","dietarypreferences_Fish-free","dietarypreferences_NON-GMO","dietarypreferences_Peanuts-free","dietarypreferences_Soy-Free","dietarypreferences_Tree-nuts-free","dietarypreferences_Vegan","dietarypreferences_Wheat-free","display_on_sort_page","do_not_track_inventory","gastrointestinal_health","gender_Female","gender_Male","health_Internal-Health","healthconcerns_Inflammation-Support","immune_health","inflammation_support","mip_64.98","mrp_0.00","msrp_64.98","package_id_102","package_size_105","packagename_capsules","packagesize_90-capsules","physical_product","primary_category_id_102","primary_category_name_supplements","product_name_cytoquel","recommendation_242___inflammation_support","recommendation_24___immune_support","sale_channel_2_add_to_cart_logged-user","sale_channel_2_display_price_logged-user","sale_channel_2_display_product_everyone","sale_channel_clinic","sale_channel_shopify-us_Shopify US","serving_size_3-capsules","shopify_us_membership_price_0.00","shopify_us_regular_price_64.98","shopify_us_subscription_price_64.98","sku_RN145","stock_4","use_custom_prices","useIngredientsimage","vendor_code_RN145","vendor_id_117","vendor_link_https:\/\/www.researchednutritionals.com\/product\/cytoquel-new\/","vendor_name_researched-nutritionals","vitamins___supplements"],"price":6498,"price_min":6498,"price_max":6498,"available":true,"price_varies":false,"compare_at_price":6498,"compare_at_price_min":6498,"compare_at_price_max":6498,"compare_at_price_varies":false,"variants":[{"id":31301272797297,"title":"Default Title","option1":"Default Title","option2":null,"option3":null,"sku":"RN145","requires_shipping":true,"taxable":true,"featured_image":null,"available":true,"name":"CytoQuel","public_title":null,"options":["Default Title"],"price":6498,"weight":0,"compare_at_price":6498,"inventory_management":"shopify","barcode":""}],"images":["\/\/cdn.shopify.com\/s\/files\/1\/0178\/1763\/2868\/products\/RN145-CytoQuel-1_bc23583f-3e42-42d7-81db-8dadb79ce65a.png?v=1614897731","\/\/cdn.shopify.com\/s\/files\/1\/0178\/1763\/2868\/products\/RN145-CytoQuel-2_1fc00e58-6a26-4d14-ae5e-30894b4ebc8d.png?v=1614897731","\/\/cdn.shopify.com\/s\/files\/1\/0178\/1763\/2868\/products\/RN145-CytoQuel-3_15959ed8-65fe-4905-a538-5f66881981c5.png?v=1614897731"],"featured_image":"\/\/cdn.shopify.com\/s\/files\/1\/0178\/1763\/2868\/products\/RN145-CytoQuel-1_bc23583f-3e42-42d7-81db-8dadb79ce65a.png?v=1614897731","options":["Title"],"media":[{"alt":"RN145 CytoQuel","id":20307152535665,"position":1,"preview_image":{"aspect_ratio":1.0,"height":1500,"width":1500,"src":"https:\/\/cdn.shopify.com\/s\/files\/1\/0178\/1763\/2868\/products\/RN145-CytoQuel-1_bc23583f-3e42-42d7-81db-8dadb79ce65a.png?v=1614897731"},"aspect_ratio":1.0,"height":1500,"media_type":"image","src":"https:\/\/cdn.shopify.com\/s\/files\/1\/0178\/1763\/2868\/products\/RN145-CytoQuel-1_bc23583f-3e42-42d7-81db-8dadb79ce65a.png?v=1614897731","width":1500},{"alt":"Ingredientsimage1","id":20307152568433,"position":2,"preview_image":{"aspect_ratio":0.917,"height":495,"width":454,"src":"https:\/\/cdn.shopify.com\/s\/files\/1\/0178\/1763\/2868\/products\/RN145-CytoQuel-2_1fc00e58-6a26-4d14-ae5e-30894b4ebc8d.png?v=1614897731"},"aspect_ratio":0.917,"height":495,"media_type":"image","src":"https:\/\/cdn.shopify.com\/s\/files\/1\/0178\/1763\/2868\/products\/RN145-CytoQuel-2_1fc00e58-6a26-4d14-ae5e-30894b4ebc8d.png?v=1614897731","width":454},{"alt":"Ingredientsimage2","id":20307152601201,"position":3,"preview_image":{"aspect_ratio":0.93,"height":949,"width":883,"src":"https:\/\/cdn.shopify.com\/s\/files\/1\/0178\/1763\/2868\/products\/RN145-CytoQuel-3_15959ed8-65fe-4905-a538-5f66881981c5.png?v=1614897731"},"aspect_ratio":0.93,"height":949,"media_type":"image","src":"https:\/\/cdn.shopify.com\/s\/files\/1\/0178\/1763\/2868\/products\/RN145-CytoQuel-3_15959ed8-65fe-4905-a538-5f66881981c5.png?v=1614897731","width":883}],"content":"\u003cp\u003e\u003cstrong\u003e\u003cem\u003ePro-Inflammatory Cytokine Support*\u003c\/em\u003e\u003c\/strong\u003e\u003c\/p\u003e\n\n\u003cul\u003e\n\t\u003cli\u003e\u003cstrong\u003eClinically Researched\u003c\/strong\u003e\u003c\/li\u003e\n\t\u003cli\u003e\u003cstrong\u003eComprehensive Formula\u003c\/strong\u003e\u003c\/li\u003e\n\t\u003cli\u003e\u003cstrong\u003eGMO-Free, Vegan, Soy Free\u003c\/strong\u003e\u003c\/li\u003e\n\u003c\/ul\u003e\n\n\u003cp\u003eCurrent research has focused on the impact of pro-inflammatory cytokines on inflammation levels. During an infection, the body naturally produces pro-inflammatory cytokines as part of its defense mechanism. The healthy body balances pro-inflammatory cytokines with anti-inflammatory cytokines. However, if these pro-inflammatory cytokines (i.e. IL-1, IL-6, IL-8, IL-17, IL-23), Tumor Necrosis Factor-alpha (TNF-a), Nuclear Factor kappa Beta (NF-kß) continue in the "on position" and inflammation levels remain high, adverse health may be the result.\u003c\/p\u003e\n\n\u003cp\u003e \u003c\/p\u003e\n\n\u003cp\u003eCytoQuel (GMO Free)™ are trademarks of Researched Nutritionals, LLC and are used with permission.\u003c\/p\u003e\n\n\u003cp\u003e* These statements have not been evaluated by the Food and Drug Administration. These products are not intended to diagnose, treat, cure, or prevent any disease.\u003c\/p\u003e\n"}
CytoQuel
Inflammatory Response
Clinically researched CytoQuel® has been developed to promote healthy cytokine activity. Based on the latest published research, CytoQuel® offers you and your patients an effective new tool in the quest for healthy inflammation levels.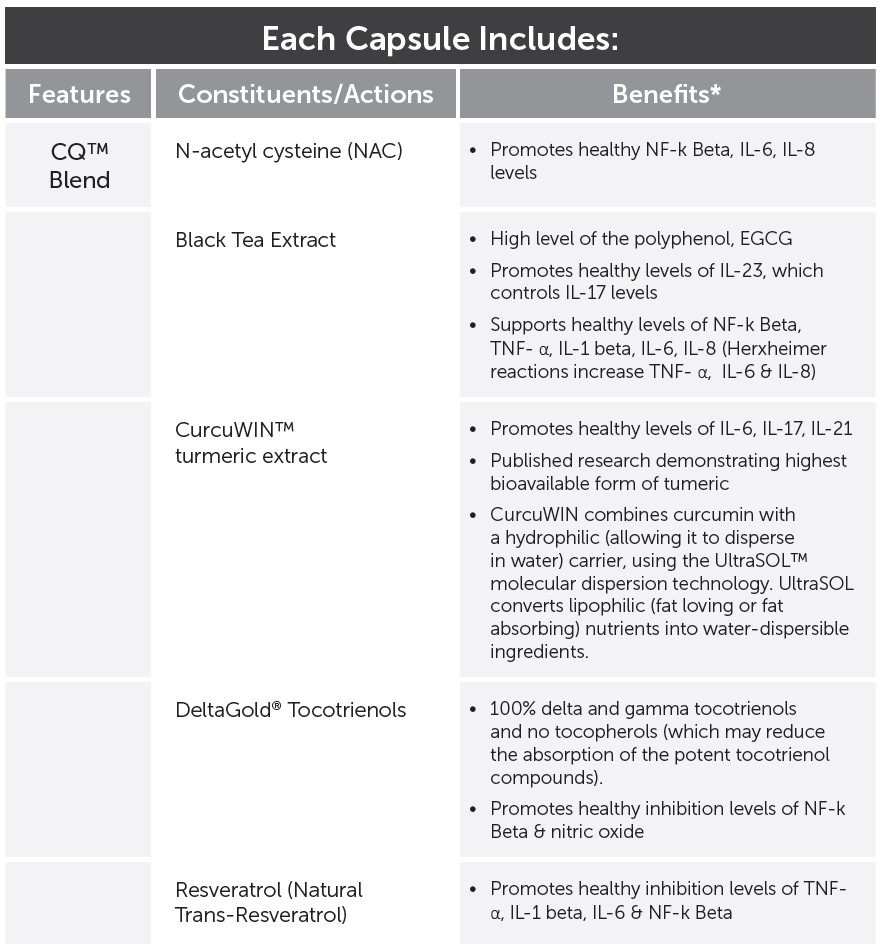 CytoQuel (GMO Free)™ are trademarks of Researched Nutritionals, LLC and are used with permission.
* These statements have not been evaluated by the Food and Drug Administration. These products are not intended to diagnose, treat, cure, or prevent any disease.
Suggested Use
Take three capsule once per day with a meal. Sensitive patients may start with one capsule per day with a meal for the first week, and then move up to three capsules per day in week two and beyond, or use as directed by your healthcare professional. For best results take away from Vitamin E (tocopherol).