{"id":4375724425329,"title":"HeliGuard","handle":"heliguard","description":"\u003cp\u003e\u003cstrong\u003eTargeted Gastric Support*\u003c\/strong\u003e\u003c\/p\u003e\n\n\u003cp\u003eScientific studies and articles in trade publications have focused attention on how bacterial strains are mutating at a faster rate than our current new antibiotic product development, rendering many bacterial strains resistant to the current antibiotic arsenal.  All bacteria treated with conventional antibiotics will eventually develop antibiotic resistance over time.  The medical community is increasing physician education about the over prescribing of antibiotics and patients not following through on complete cycles of antibiotics as key contributors to this problem.\u003c\/p\u003e\n\n\u003cp\u003eHeliGuard™ are trademarks of Researched Nutritionals, LLC and are used with permission.\u003c\/p\u003e\n\n\u003cp\u003e* These statements have not been evaluated by the Food and Drug Administration. These products are not intended to diagnose, treat, cure, or prevent any disease.\u003c\/p\u003e\n","published_at":"2020-01-13T11:50:53-08:00","created_at":"2020-01-13T11:50:53-08:00","vendor":"Researched Nutritionals","type":"Supplements","tags":["age_Senior","brand_id_117","brand_name_researched-nutritionals","clinic_membership_price_0.00","clinic_regular_price_0.00","clinic_subscription_price_0.00","cost_14.99","country_united-states-of-america","custom_mip_35.98","custom_msrp_35.98","dietarypreferences_Crustacean-shellfish-free","dietarypreferences_Dairy-Free","dietarypreferences_Egg-free","dietarypreferences_Fish-free","dietarypreferences_NON-GMO","dietarypreferences_Peanuts-free","dietarypreferences_Preservatives-free","dietarypreferences_Soy-Free","dietarypreferences_Tree-nuts-free","dietarypreferences_Wheat-free","digestive_health","display_on_sort_page","do_not_track_inventory","gastrointestinal_health","gender_Female","gender_Male","health_Internal-Health","immune_health","mip_35.98","mrp_0.00","msrp_35.98","package_id_129","package_size_105","packagename_vegetable-capsules","packagesize_90-capsules","physical_product","primary_category_id_102","primary_category_name_supplements","product_name_heliguard","recommendation_241___gut_barrier","recommendation_24___immune_support","sale_channel_2_add_to_cart_logged-user","sale_channel_2_display_price_logged-user","sale_channel_2_display_product_everyone","sale_channel_clinic","sale_channel_shopify-us_Shopify US","serving_size_3-capsules-once-daily","shopify_us_membership_price_0.00","shopify_us_regular_price_35.98","shopify_us_subscription_price_35.98","sku_RN157","use_custom_prices","useIngredientsimage","vendor_code_RN157","vendor_id_117","vendor_link_https:\/\/www.researchednutritionals.com\/product\/heliguard-gmo-free\/","vendor_name_researched-nutritionals","vitamins___supplements"],"price":3598,"price_min":3598,"price_max":3598,"available":true,"price_varies":false,"compare_at_price":3598,"compare_at_price_min":3598,"compare_at_price_max":3598,"compare_at_price_varies":false,"variants":[{"id":31301302288497,"title":"Default Title","option1":"Default Title","option2":null,"option3":null,"sku":"RN157","requires_shipping":true,"taxable":true,"featured_image":null,"available":true,"name":"HeliGuard","public_title":null,"options":["Default Title"],"price":3598,"weight":0,"compare_at_price":3598,"inventory_management":"shopify","barcode":""}],"images":["\/\/cdn.shopify.com\/s\/files\/1\/0178\/1763\/2868\/products\/RN157-HeliGuard-1.png?v=1614897729","\/\/cdn.shopify.com\/s\/files\/1\/0178\/1763\/2868\/products\/RN157-HeliGuard-2.png?v=1614897729","\/\/cdn.shopify.com\/s\/files\/1\/0178\/1763\/2868\/products\/RN157-HeliGuard-3.png?v=1614897729"],"featured_image":"\/\/cdn.shopify.com\/s\/files\/1\/0178\/1763\/2868\/products\/RN157-HeliGuard-1.png?v=1614897729","options":["Title"],"media":[{"alt":"RN157 HeliGuard","id":20307152273521,"position":1,"preview_image":{"aspect_ratio":1.0,"height":800,"width":800,"src":"https:\/\/cdn.shopify.com\/s\/files\/1\/0178\/1763\/2868\/products\/RN157-HeliGuard-1.png?v=1614897729"},"aspect_ratio":1.0,"height":800,"media_type":"image","src":"https:\/\/cdn.shopify.com\/s\/files\/1\/0178\/1763\/2868\/products\/RN157-HeliGuard-1.png?v=1614897729","width":800},{"alt":"Ingredientsimage1","id":20307152306289,"position":2,"preview_image":{"aspect_ratio":1.105,"height":421,"width":465,"src":"https:\/\/cdn.shopify.com\/s\/files\/1\/0178\/1763\/2868\/products\/RN157-HeliGuard-2.png?v=1614897729"},"aspect_ratio":1.105,"height":421,"media_type":"image","src":"https:\/\/cdn.shopify.com\/s\/files\/1\/0178\/1763\/2868\/products\/RN157-HeliGuard-2.png?v=1614897729","width":465},{"alt":"Ingredientsimage2","id":20307152339057,"position":3,"preview_image":{"aspect_ratio":0.985,"height":945,"width":931,"src":"https:\/\/cdn.shopify.com\/s\/files\/1\/0178\/1763\/2868\/products\/RN157-HeliGuard-3.png?v=1614897729"},"aspect_ratio":0.985,"height":945,"media_type":"image","src":"https:\/\/cdn.shopify.com\/s\/files\/1\/0178\/1763\/2868\/products\/RN157-HeliGuard-3.png?v=1614897729","width":931}],"content":"\u003cp\u003e\u003cstrong\u003eTargeted Gastric Support*\u003c\/strong\u003e\u003c\/p\u003e\n\n\u003cp\u003eScientific studies and articles in trade publications have focused attention on how bacterial strains are mutating at a faster rate than our current new antibiotic product development, rendering many bacterial strains resistant to the current antibiotic arsenal.  All bacteria treated with conventional antibiotics will eventually develop antibiotic resistance over time.  The medical community is increasing physician education about the over prescribing of antibiotics and patients not following through on complete cycles of antibiotics as key contributors to this problem.\u003c\/p\u003e\n\n\u003cp\u003eHeliGuard™ are trademarks of Researched Nutritionals, LLC and are used with permission.\u003c\/p\u003e\n\n\u003cp\u003e* These statements have not been evaluated by the Food and Drug Administration. These products are not intended to diagnose, treat, cure, or prevent any disease.\u003c\/p\u003e\n"}
HeliGuard
GI Vitamin
Gut Supplement
HeliGuard™ combines four nutrients with published clinical research in the area of promoting a healthy response to bacterial stomach challenges. This unique formulation may be used as a stand-alone or to support a more traditional antimicrobial gut protocol. As a multi-faceted product, it is designed to promote healthy gut microbial balance, support the body's normal gut biofilm defense & gastric mucosal balance.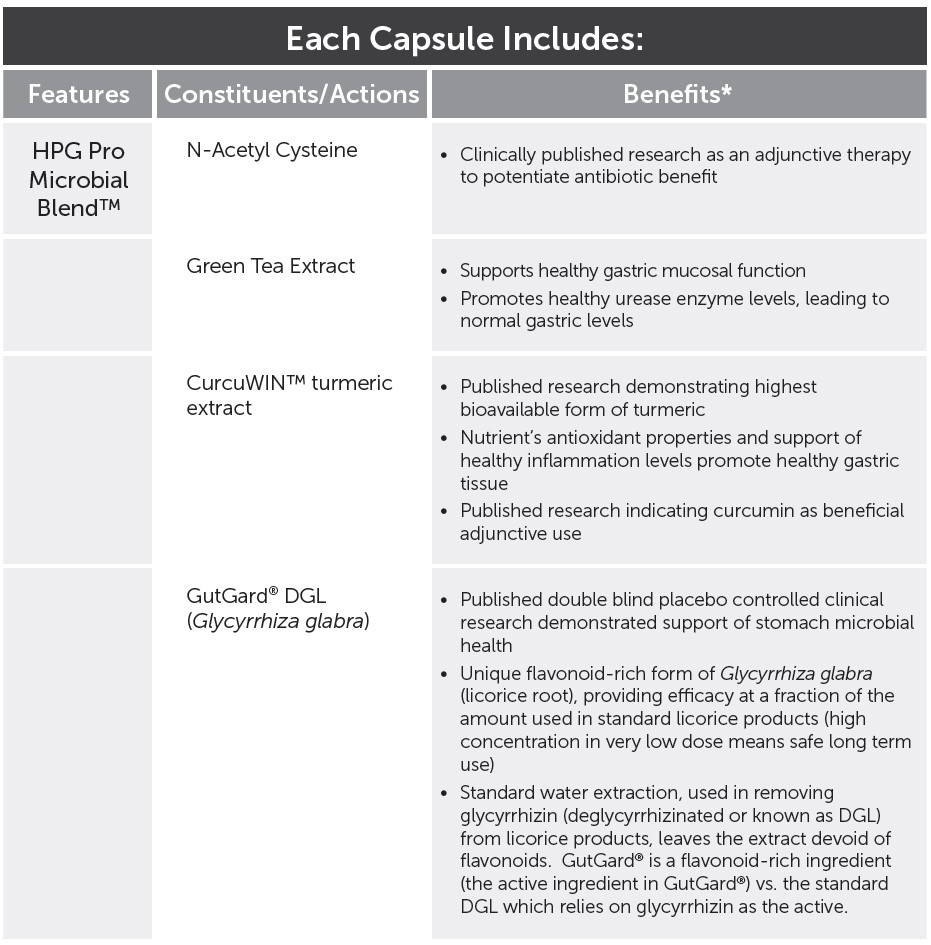 HeliGuard™ are trademarks of Researched Nutritionals, LLC and are used with permission.
* These statements have not been evaluated by the Food and Drug Administration. These products are not intended to diagnose, treat, cure, or prevent any disease.
Suggested Use: As a dietary supplement, take 3 capsules once daily at least 30 minutes prior to eating, or as directed by your healthcare professional.
Cautions: None known.